How to use a nebuliser at home?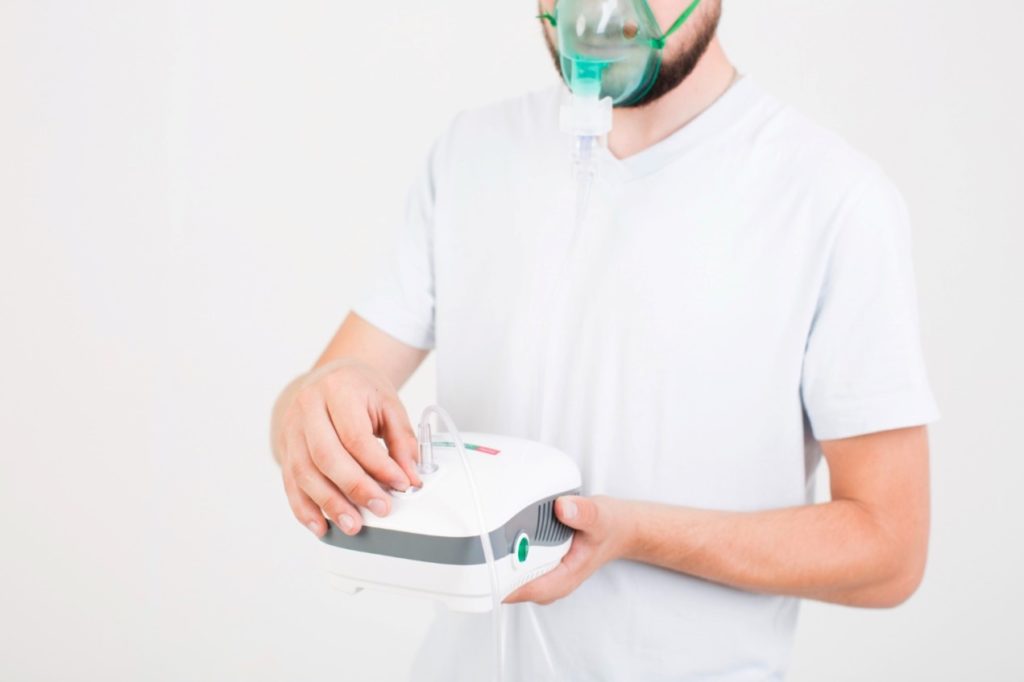 Nebulisers, are devices that help in converting liquid medication into mist or aerosol form and make it easier for respiratory patients to breathe in the medications. Nebulisation is used in both hospital and home treatment settings and offers various benefits for asthma, COPD and other respiratory disease patients.
Nebulisation is the most helpful way to deliver medication to infants, small children and elders who have difficulty using metered dose inhaler and dry powder inhalers. Nebulisation does not require hand-breathe coordination like inhalers and is a great option for dispensing medications to target organs (lungs and airways).
How to use a nebuliser at home? What are the steps for using nebuliser at home properly? What are important things to remember while using nebuliser at home? Read on to know more!
How to use a nebuliser at home
You can use a nebuliser and can perform nebulisation therapy at home if your doctor has recommended it. There are many chronic respiratory diseases like asthma, and COPD, that requires home nebulisation for delivering medication and managing existing disease condition well.
Before starting to use nebuliser at home, it is important to understand different important aspects of nebulisation like what are the steps to perform nebulisation at home and how should you take care (cleaning, maintenance etc.) of the nebuliser after using it?
Moreover, it is equally important to follow the correct procedure to deliver the right amount of medication to the lungs. Otherwise, you will not get the desired results from nebulisation at home.
Nebulisation steps
General instructions
Read and understand the instruction manual properly.
Make a proper understanding of all the different parts of a nebuliser and ask or confirm with your doctor, if you have any doubts or questions regarding it.
Take out and assemble the nebuliser parts (compressor, tube, medicine cup etc.) correctly.
Wash your hands properly before starting the nebulisation process.
Step-by-step process
Place the compressor on a sturdy and clean table. Make sure, it is close to the electric outlet.
Sit on a well-supported chair in an upright position or if you are a caregiver make your patient sit comfortably on a chair in an upright position.
Plug in the compressor's cord to the electric outlet.
Open the respule of the prescribed medication and pour the medication into the nebuliser cup. Attach the mouthpiece or facemask to the nebuliser cup.
Now, connect one of the tubing to the nebuliser cup and the other end to the compressor.
Turn on the compressor. As soon as, you turn on the compressor, it will convert the liquid medication into mist.
Check the positioning of the facemask or mouthpiece before start taking medication. Make sure, you have placed the mouthpiece between your teeth and sealed the lips properly around it.
Start breathing through your mouth normally. If possible, try to take a slow deep breath after 3-4 breaths and hold it for a few seconds, before breathing out. Continue the process for 15-20 minutes or as directed by your doctor.
After completion of the process, turn off the compressor. Disassemble all parts of the nebuliser. Wash them properly and store them in a clean dry place.
Tips to Remember while performing nebulisation at home
While performing nebulisation at home, it is important to follow "Good nebulisation practices or GNP". Good nebulisation practices involve various steps from following the correct technique to keeping your nebuliser clean. Following GNP ensures that you receive the required dose of medication and get optimum results from the nebulisation process.
Here are some important steps that help in following good nebulisation practices at home.
Know your medication: As a first step, it is important to understand what kinds of medication you need to use with nebulisers.
Use the correct dose: Along with using the right medication, it is equally important to know the correct dose and fill volume of your medication.
Use the right technique: learning and following the correct nebulization technique is another vital aspect of successful nebulisation at home.
Place the mouthpiece or facemask properly: next, it is important to select a well-fitted mask for delivering medications. If you use a loose-fitted mask for delivering medication, then medication will come out from the side. This thing will cause less quantity of medication to reach the lungs and you will not get good relief from your symptoms.
Duration: It is important to perform the nebulisation for the recommended duration as per your doctor's suggestion.
Cleaning and maintenance: Finally, it is important to follow good cleaning and hygiene practices for nebulisers. Make sure to dissemble all the parts of nebulisers after each use or at least once a day. Discard excess medicine and clean nebuliser parts, medicine cup with warm soapy water and finally with clean water before drying all nebuliser parts in open air. Avoid using water for cleaning the compressor and tubing. Use cleaning wipes for cleaning the compressor. Tube can be cleaned by blowing compressed air from compressor.
Deep clean or sterilize the nebuliser parts once a week. As an option to cleaning nebulizer parts with warm soapy solution, take three-part warm water and one-part white vinegar and put the nebuliser parts in it for at least 30 minutes. After 30 minutes, rinse the parts, except the compressor, with clean water and allow them to air dry properly.
Store: Store the nebulisers in a clean bag in a clean dry place to avoid the risk of contamination.
If you are a caregiver of a patient who needs nebulisation
If you are a caregiver of a patient who needs nebulisation, then it is important to get the required training for nebulisation from your doctor or healthcare providers. Next, it is equally essential to learn and follow good nebulisation practices while performing nebulisation at home. Following good practices ensures that you follow all needed steps and precautions carefully.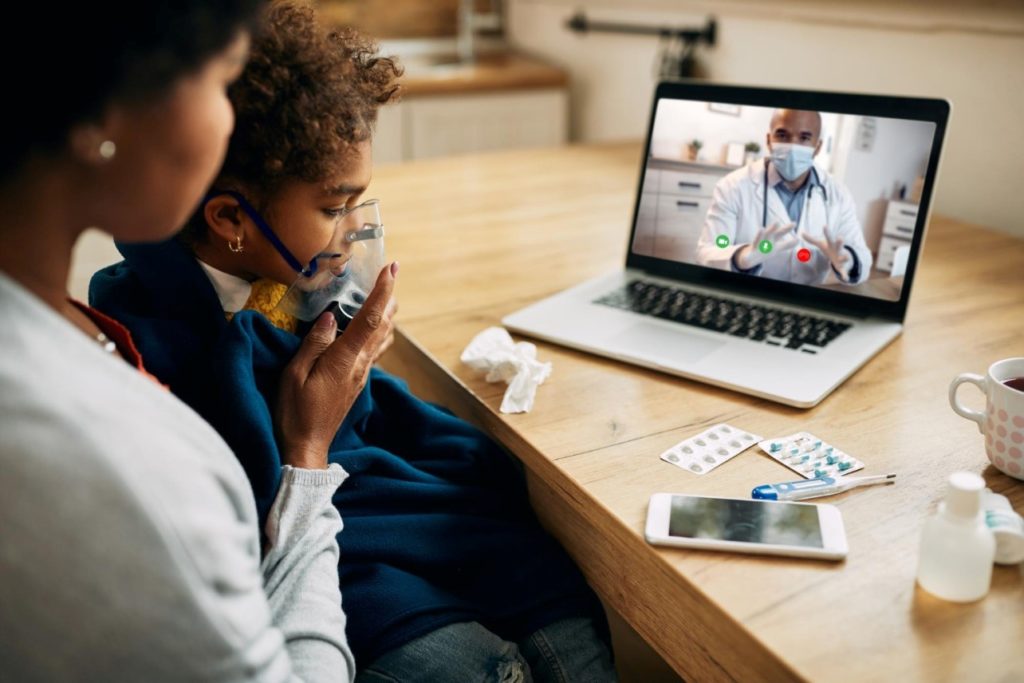 Nebulization in adults Vs Nebulization in children
Though the basic process of nebulization is the same for adults and children, however, children need some extra assistance for successful nebulization at home. It is recommended to use a well-fitted mask for delivering medication to kids with nebulization.
Furthermore, some kids might have a problem sitting in an upright position and may throw tantrums if long period of nebulization is required. In that case, you can make nebulization a fun-filled activity. You can keep your kids engaged in a good book or watch a movie while dispensing medication. These steps help in keeping kids engaged and complete nebulization successfully.
A quick checklist to ask the doctor for successful nebulization at home
Whether you are a patient or a caregiver, it is important to discuss all important pointers regarding your disease and medication with your doctor.
What type of medication do you need to use with nebulization?
What is the correct dose and frequency of repetition for nebulization?
Face mask or mouthpiece, what is the best option in your case?
Are there any side effects that can be caused by nebulization?
Is there any indication that lets you know that nebulization is not done properly?
By following all these steps, you can perform nebulization successfully at home.